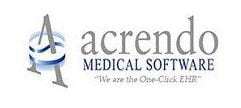 What is Acrendo Software?
About Acrendo Software
Acrendo Software has clients in 18 different specialties, with a particularly strong presence in Internal Medicine, Family Practice, Pediatrics, Podiatry, Pain Management and Psychiatry. Our top rated support and training departments will work with you to develop a system that meets your needs, and exceeds your expectations.
Acrendo Software offers comprehensive solutions to small and medium size practices for managing; electronic records, billing, document imaging, electronic claims, paperless scheduling, and voice dictation. We do it with the highest standards of excellence, integrity, and customer satisfaction.
A.I.med 9 is ONC CCHIT Certified for 2011/2012 and comes with templates designed for each medical specialty. Templates can be modified quickly using drag & drop technology. A.I.med includes an electronic lab system connected to Quest and LabCorp for Orders and Results. Users can review all lab orders before adding them to the chart.
Other features include a built in Document Management System allowing users to add images such as diagnostics via disk or scan into the chart. Users can also access Clinical Reminders and Patient Education with just a few clicks.
Benefits of A.I.med
Faster Charting With Custom Templates
Better Patient Care
Write & Refill Prescriptions Faster
Review Lab Results Faster
Automatic Clinical Reminders
Document Histories Faster
Integrated Single-Entry Billing System
Improved Coding With Our E&M Coder
Features of A.I.med
Meaningful Use Certified
Intuitive Interface (truly easy-to-use)
Customizable 'Word Style' Templates
Dragon Speech Ready (v9, v10, or v11)
ePrescribing Built In Using SureScripts
View & Import Diagnostic Images
eLab Orders & Results On Screen
Acrendo Software User Reviews