About Practice Fusion
Practice Fusion provides a free, web-based Electronic Medical Record (EMR) system for physicians. With charting, scheduling, e-prescribing, billing, lab integrations, referral letters, unlimited support and a Personal Health Record for patients, Practice Fusion's EMR addresses the complex needs of today's healthcare providers and disrupts the health IT status quo.
Practice Fusion offers these standard features of EMR systems:
Charting and note taking
Integrated Patient Health Record (PHR)
E-prescribing capabilities
Scheduling management
Document scanning and storage
Practice Fusion EHR is easy to set up and use. Data from a previous EHR can be securely uploaded to Practice Fusion's EHR. After the EHR is set up, you can customize templates and connect the system to your lab and billing software (if you don't want to use the system that is included).
This EHR system also allows you to keep track of your Meaningful Use qualification requirements to ensure you don't miss out on government incentive payments.
Practice Fusion offers free support and live training sessions to ensure you get the full benefits of this EHR system. Practice Fusion also has a library of training videos online specialized for different physicians, nurses, administrators and staff.
Practice Fusion is the fastest growing EMR community in the country with more than 70,000 users serving 8 million patients. Physicians voted Practice Fusion as the No. 1 EMR in customer satisfaction for primary care in 2011 in Brown-Wilson's Black Book Rankings.
Practice Fusion User Reviews
Free Resource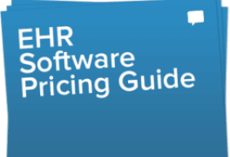 Medical, EMR & EHR software Pricing Guide
Don't let price confusion keep you from selecting the best software!