About AllMeds EHR
AllMeds provides a fully customizable solution, which can be tailored to meet your specific needs. Offices already equipped with partial solutions can integrate AllMeds' Electronic Health Record (EHR) or Practice Management (PM) systems to create a complete infrastructure solution. RCM/Billing and Collections may be added as partial, temporary or turnkey services as needed.
Free Resource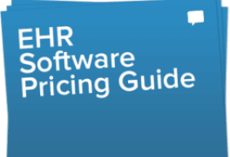 Medical, EMR & EHR software Pricing Guide
Don't let price confusion keep you from selecting the best software!