What is athenahealth EHR?
Specialities
General Practice
General Practices
About athenahealth EHR
Electronic Health Records Medical Billing Patient Engagement Order Transmission Secure Text Messaging Epocrates
Tech Support Availability N/A
athenahealth EHR User Reviews



Arrived in the afternoon and had to ring myself at the doors to gain access into the building from the lower parking deck. A receptionist "buzzes me" in and "unlocks" the door, but when I go to pull them open they are still locked. I give her 5-10 more min because I'm thinking maybe someone will let me in. Someone did eventually by coincidence. I get to the main floor via elevator where I meet the lady who "let me in" and she makes a comment about how she was wondering where I was at. I wasn't going to mention the fact the doors never unlocked because I reached my destination. Also, side note I was carrying heavy items with me too during this whole ordeal and couldn't set them down anywhere. Anyways I simply replied back that the doors never unlocked and had to get someone to let me in. After I said that, she immediately without hesitation cops the biggest attitude with me and says "well I unlocked them after you said you we're here so" and shakes her head like I just called her an obscenity or something. In almost disbelief from her sudden demeanor I told her that they were still locked. After I set down my stuff she almost immediately after starts acting nice to me because she knows she acted out for no reason. She's literally sitting there 9-5 in a chair pressing buttons and taking calls. The job is not hard, lady. I was extremely courteous and nice to her and she acts like I was the inconvenience. No apology, no knowledge that I was coming. The lady was straight up rude. Get it together Athenahealth. That or fire Consuela or whatever her name was. Thanks.


Learned too late that if your medical provider uses them and you change your email address in your profile there, you will lose access to your account. It is 2019 and this amateur hour is the state of the art? Sad.


Totally agree about Matt Christensen. I operate a business and I had one bad day and didn't provide good service. He left a bad review. My wife saw it and she left me. He ruined my life.


The direction to the office was not clear. Google or bing maps will not point you the location. Poor guidance


Read All Read All 23 Reviews Reviews
Free Resource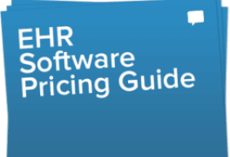 Medical, EMR & EHR software Pricing Guide
Don't let price confusion keep you from selecting the best software!