What is Crystal Practice Management?
Crystal Practice Management is a cloud-based medical practice management solution for small and midsize businesses. The solution can also be deployed on-premise for optometric offices. This suite includes electronic medical records, billing, patient scheduling, radiology information systems and accounting applications. It also provides capabilities for e-prescribing, SOAP notes, claims reporting, room scheduling and more.
Crystal Practice Management allows practitioners to handle inventory management, as it allows them to track lab orders, monitor how many frames are in stock and compare their purchase price against the sales price. When a frame is added to an invoice and purchased, the inventory is automatically updated in the system.
Crystal Practice Management helps in patient and staff scheduling through search options, color-coded appointments, multi-doctor scheduling and daily or monthly views in the calendar. Medical practices can also capture patient's information through online forms.
Support is offered via training videos, online forum and phone. A typical support call involves a technician logging into the system remotely and fixing any issues directly.
About Crystal Practice Management
Crystal PM has years of experience working with optometry offices. And our support reflects that. We offer a variety of walkthrough videos and documentation. Furthermore we provide exceptional support through telephone email and our extended onsite training services. Beyond making a great product, it is also our responsibility to ensure you are able to utilize the complete benefits of our practice management software.
Tech Support Availability 24/7
Connection Speeds Wired or wireless. Ethernet 100 Mbps or Gigabit
Crystal Practice Management User Reviews



From an end patient perspective, the app is terrible. It looks like something from 10-15 years ago. The date time is not accurate based on my provider so messages sent do not have the correct time. My provider address is listed so the time should match. I tried to create my own password, followed the directions and it just hung, literally for an hour before I closed the window after no response. I figured it out on my own. It was because special characters are not allowed but the instructions do not say that, instead the site glitches. The site just doesn't match the quality of my provider. It looks like their version of the portal is snazzy but not from the patient side (the end customer)!


Great software. Top notch.


When your software goes down expect tech support wait to be 3 to 7 hours before a live person returns your call. Good software when it's up and running but the corporate management of the company has failed its customers by not scaling their tech support properly.


I have never used a more intuitive system. Completely customizable and works more like a cooperative. You can request changes be made to the system and they totally listen! Try to say that about Officemate or Compulink! They also have amazing tech support. My only negative, You ALWAYS have to leave a message but they do call you back. I just wish we could speak to a human when it is just a simple issue instead of waiting for a call back. Sometimes I just figure it out myself by the time i get a call back. Email usually results in faster response times.


Often hour waits to get in contact with tech support. Josh B
Read All Read All 5 Reviews Reviews
Free Resource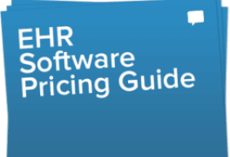 Medical, EMR & EHR software Pricing Guide
Don't let price confusion keep you from selecting the best software!