DOX Podiatry is a cloud-based system that includes a full suite of modules designed to streamline the workflow of podiatry practices of all sizes. It integrates with existing policies and operations and helps manage physician-patient interactions and streamline administrative workflows.
Using the DOX graphical user interface, a physician can diagnose each patient; that information is captured in real time, eliminating handwritten notes, dictation and other methods of completing patient records.
This real-time data capture extends to billing as well. DOX Podiatry pulls both IDC and CPT billing codes directly from the patient record in the EMR.
In addition to the EMR, other DOX modules include front office & scheduling, a patient portal and medical billing & collections. It also integrated with outside billing solutions like CoveMD and offers additional interfaces with its HL7 support.
Specialities
General Practice
General Practices
Tech Support Availability 24/7
Connection Speeds A broadband connection is recommended
DOX Podiatry User Reviews

Read All Read All Reviews Reviews
Free Resource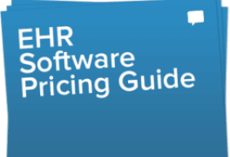 Medical, EMR & EHR software Pricing Guide
Don't let price confusion keep you from selecting the best software!