What is ElationEMR by ElationEMR?
Elation Health is a cloud-based clinically focused electronic health record solution for physicians looking for an ONC-ATCB certified EMR along with patient scheduling, a patient portal, e-prescribing and e-faxing. The solution can be accessed through a web browser with Mac or PC.
Elation Health is suited for providers who deliver longitudinal care and are focused on small group primary care practices. Elation's three-pane view of the health record gives providers a full view of the patient's medical history. Chronic problems easily pull into assessments and SOAP notes and can be addressed in real time with the patient during the visit.
Physicians can receive and share patient information, whether labs or consults, referrals to specialists, or other collaboration between providers. This eliminates double data entry and ensures all information is correct and up-to-date. Elation also offers telehealth powered by Zoom.
Elation's Provider Passport feature allows consulting physicians to log in and view the patient's record in order to improve collaboration between providers and enable improved longitudinal care.
Specialities
Allergy
Anesthesiology
Bariatric Surgery
Behavioral Health
Breast Surgery
Cardiology
Chiropractic
Dentistry
Dermatology
Emergency Medicine
Endocrinology
ENT
Family Med
Gastroenterology
General Surgery
Geriatrics
HEMATOLOGY/ONCOLOGY
Hospitalist
Infectious Disease
Internal Medicine
Internal Medicine Sub-Specialty
Long-Term Care
Multi-Specialty
Nephrology
Neurology
Neurosurgery
OB-Gyn
Occupational Medicine
Oncology
Ophthalmology
Optometry
Orthopedics
Pain Management
Pathology
Pediatrics
Physical Therapy
Plastic Surgery
Podiatry
Psychiatry
Psychology
Pulmonology
Radiology
Rheumatology
Sleep Medicine
SurgiCenter
Urgent Care
Urology
Vascular Surgery
About ElationEMR by ElationEMR
We formed ElationEMR to make physicians' lives easier, from the very beginning. We develop innovative tools to save you time and help you gain back control so you determine the best processes for caring for your patients. We are committed to the successful adoption of ElationEMR for each of the providers we work with, and it shows in our approach to implementation and the on-going relationships we have with our clients. We also believe that providers should have a choice about the technology they use. If you don't find our innovative tools meet your needs, we will provide you with your patient data so you can transition easily to another choice.
ElationEMR by ElationEMR User Reviews

Read All Read All Reviews Reviews
Free Resource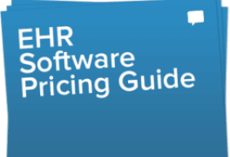 Medical, EMR & EHR software Pricing Guide
Don't let price confusion keep you from selecting the best software!