Specialities
Emergency Medicine
Urgent Care
About Emergisoft
EmergisoftED is a complete Web-based architecture, Microsoft .NET, CCHIT-certified Emergency Department Information Solution (EDIS) that automates each step of the patient management and patient documentation process in the emergency department, including: triage, patient tracking, physician and nurse documentation, order entry, immediate access to results, charge capture, disposition, discharge instructions, scanning and digital imaging, and real-time management reporting including syndromic surveillance.



I wrote a early review, in it I talked about the negative reviews I read. Let's put that aside because I finally had my appointment. The hospital was super clean. In fact I can't ever remember seeing a hospital so clean. I'm a Proud card caring neat freak...LOL. .Seriously I'm in love. Second, I didn't wait long. They staff, all from the front door back were nice, kind and professional. Not once did I question anything. I was informed from the beginning as to what was being done.. So on the negative reviews on this Hospital. It's safe to say, let's ignore them. Believe me I'm all about truth in report. Truth in life period. THANKS BEAUMONT WAYNE...


The nursing staff was great I will give them that. HOWEVER, After being there 4 DAYS I only saw the ER DOC. One very kind nurse Brad ,upstairs where I got moved, had some ultrasounds ordered for all of my abdominal organs. He answered all my questions very thoroughly. If he was my doctor I never would have left AMA. I have never in my life left AMA. I would expect to have a conversation with your doctor. There were things that happened while I was in there that are TMI and I really needed to talk to him. I guess that doesn't matter. I overheard the nurses trying to get a hold of him and his partner with no luck for a single day. They wouldn't let me eat or drink for at least twelve hours. I am having stomach issues and I understand why the nurses needed his approval but if you work in a hospital then have someone on hand! Once one of the nurses did get a final apprroval for clear liquids only I tried to order and the guy told me I ordered too much stuff. I tried to explain to him its because I am on all liquid diet and I am STARVING. It is a shame because I had my son there and before this I had no issues with the hospital. I guess it's a trip to ST. Mary's next time I need an ER. I gave 2 stars instead of one because of their amazing nursing staff.


I can't speak for other since there are a lot of bad reviews, but I loved the staff here everyone was very helpful and sweet. I was here for a foot surgery so I have no idea what the ER was like. I was scared of coming here because of the reviews, but just judge for yourself. And leave a good review if you had a positive experience.

daddy and daughter reviews

I loved it. This is the one that helped my auntie. Come here for serious situations. It definitely needs 5 starring.


Dr. Rice, Sara and Steffie were the best with my 91 year old mother. Very careful, humane, intelligent and professional.
Read All Read All 254 Reviews Reviews
Free Resource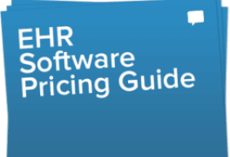 Medical, EMR & EHR software Pricing Guide
Don't let price confusion keep you from selecting the best software!