About Healthland
We have the solution. Key input from physicians like you ensures the Healthland Electronic Health Records (EHR) system is meeting your unique requirements and workflow methodology. In fact, the Healthland Computerized Physician Order Entry (CPOE) was built from the ground up based upon specific recommendations from our physician advisory board.
Created to enhance patient safety and reduce medical errors, Healthland physician solutions also address the unique needs of rural hospitals, clinics, and physician practices like yours. You'll experience reporting efficiencies, easy access to patient charts, timely documentation, patient education tools, improved accuracy, and a reduction in paperwork. All so you can focus on what you do best: providing quality healthcare to your neighbors, family, and friends.
Free Resource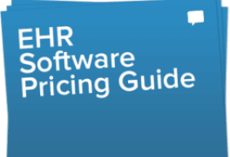 Medical, EMR & EHR software Pricing Guide
Don't let price confusion keep you from selecting the best software!