What is iKnowMed EHR, Horizon Ambulatory, Paragon?
iKnowMed Generation 2 is a cloud-based electronic health recording solution built for the needs of oncologists and hematologists. It is designed to help practices meet Stage 1 and Stage 2 of Meaningful Use certification.
In addition to the core EHR functionality, it also offers tools for tracking patient demographics, patient histories, e-prescribing, charge capture and notes. iKnowMed Generation 2 also supports oncology-specific requirements. These features allow physicians to diagnose and stage cancer patients using AJCC and FIGO staging criteria and select patient's treatment regimens from both NCCN Guidelines® and Value Pathways powered by NCCN®.
iKnowMed Generation 2 can also be accessed on internet-enabled smartphones. The standalone EHR integrates with Lynx Mobile inventory management, My Care Plus patient portal and can interface with a number of practice management, laboratory, radiology, pathology, dictation and notes systems. iKnowMed Generation 2 is suitable to practices of all sizes, ranging from solo private practices to large cancer care facilities with hundreds of doctors.
About iKnowMed EHR, Horizon Ambulatory, Paragon
Bring all your oncology patients' records together in a centralized database all stakeholders can access and personalize. iKnowMed℠ is the industry's award-winning second-generation oncology electronic health record (EHR)
Tech Support Availability N/A
iKnowMed EHR, Horizon Ambulatory, Paragon User Reviews

Read All Read All Reviews Reviews
Free Resource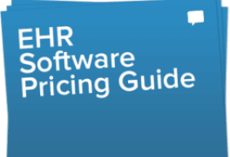 Medical, EMR & EHR software Pricing Guide
Don't let price confusion keep you from selecting the best software!