What is Intuitive Medical Documents (IMD)?
Designed by doctors for doctors, Intuitive Medical Documents (IMD) is a comprehensive, Web-based medical software solution that focuses on ease of use. With little to no training, practices of all sizes can make use of a full suite of applications, including a fully certified EHR, medical billing, patient scheduling, RIS/PACS, e-prescribing and patient portal.
IMD was born out of a desire to offer the market a comprehensive and afforadable EHR and practice management system that provides charting and documentation, scheduling, billing, reporting and accounting.
IMD can be fully customized to support the needs of almost any practice. There are a number of specialty modules tailored to primary care, internal medicine, neurology, cardiology, oncology and more.
As a Web-based system, IMD can be accessed from anywhere with an Internet connection and offers a monthly pricing model. IMD's support team is comprised of a dedicated group of technical and clinical specialists.
Tech Support Availability N/A
Intuitive Medical Documents (IMD) User Reviews

Read All Read All Reviews Reviews
Free Resource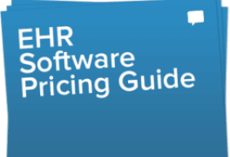 Medical, EMR & EHR software Pricing Guide
Don't let price confusion keep you from selecting the best software!