About iSalus
Founded in 2000, iSALUS Healthcare™ provides a fully unified, web-based Electronic Medical Record (EMR) and Practice Management solution. From our Midwest headquarters in Indianapolis, Indiana, we serve more than 40 distinct medical specialties across the United States, processing more than a quarter billion dollars in medical claims each year.
Why Web-Based?
iSALUS is committed to removing the technology risk from your purchase decision; we believe your focus should be on patient care, not a room full of computer equipment. That's why we provide a 21st century alternative: now you can simply plug in and subscribe to the most advanced web-based EMR and Practice Management system on the market today. With nothing more than a computer and an Internet connection, you're ready to begin.
Higher Adoption
iSALUS solutions are available anytime and anywhere. With their familiar Internet interface and intuitive design, our solutions tend to have high adoption rates, with a lower learning curve.
Lower Costs
Our solutions are subscription-based. No license fees mean lower initial costs. Plus iSalus takes care of the backend technology, which reduces your costs for hardware, software and the people needed to manage it all.
Painless Upgrades
iSALUS manages all your upgrades, so there are no patches to download or install. We also manage your system availability. That means you'll never need to add expensive hardware and software as your practice grows.
Free Resource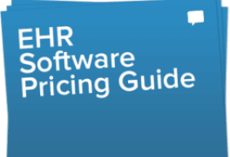 Medical, EMR & EHR software Pricing Guide
Don't let price confusion keep you from selecting the best software!