M.O.S.E.S. Cloud Complete EHR by MedXLnce, Inc.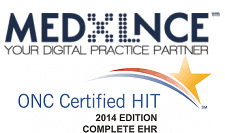 | | |
| --- | --- |
| Company: | M.O.S.E.S. Cloud Complete EHR by MedXLnce, Inc. |
| Address: | |
| Practice size: | > 1000 Physicians, 1 Physician, 101-250 Physicians, 11-25 Physicians, 2 Physicians, 251-1000 Physicians, 26-50 Physicians, 3-5 Physicians, 51-100 Physicians, 6-10 Physicians |
| System type: | Web/Cloud Solutions |
| Additional criteria: | Drummond Certified |
| Product Name: | M.O.S.E.S EHR |
MOSES Cloud Complete CERTIFIED EHR© was developed by MedXLnce, Inc. and is provided directly to our healthcare provider clients as an affordable Cloud-based subscription solution. MedXLnce, Inc. provides its software products and services directly to its clients, with no middle-men or independent dealers. We work closely with a nationwide network of independent professional consultants who recommend our solution to physicians and other healthcare providers. All implementation, training and end-user support services to MedXLnce, Inc. clients is provided by our staff from our corporate headquarters located in Jacksonville, Florida. Our software development staff has over 15 years of consecutive software development experience, and our EHR / Practice Management consultants have provided professional consulting services for small medical practices since 1982. The MedXLnce, Inc. staff is ready to respond to your requests with timely product support, product information and professional EHR workflow advice.