About MedEvolve
MedEvolve EHR focuses on two distinct sets of physician practice environments, High Productivity and Robust Medical Content. MedEvolve aligns its implementation approach to the practice's philosophy on rendering patient care.
For a High Productivity environment, MedEvolve EHR is implemented with an emphasis on minimizing data entry and physician distraction. When enabled with touch screens, the physician need never touch a keyboard nor lug a tablet about. With proper implementation, the physician should spend no more time recording health data into the EHR than was previously spent completing paper encounter forms.
For a Robust Medical Content environment, MedEvolve EHR is implemented with emphasis on recording a broader, more comprehensive set of health data reflecting individual physician approaches for taking histories, counseling patients, diagnosing and prescribing treatment plans. MedEvolve EHR has complete plans for ophthalmic practices and continues developing content for other medical specialties.
Free Resource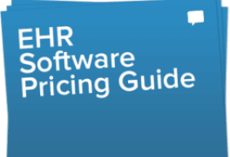 Medical, EMR & EHR software Pricing Guide
Don't let price confusion keep you from selecting the best software!