Medicfusion is a cloud-based medical solution designed specifically for chiropractors, offering electronic medical recording (EMR) billing software, scheduling software, billing services and more.
Within the system, SOAP notes can be generated automatically and electronically signed. They can also be integrated with features like patient case and medical history, outcome assessment findings and medication/allergy lists. A custom forms library contains over fifty commonly used forms and surveys that can be customized according to practice needs.
A patient portal offers features like virtual payments, intake, scheduling and charting progress. Patients can access it from home to update their records, view health information and exchange secure messages with their provider.
Additionally, it offers self check-in, custom reports, online scheduler, automate communication and billing features. The solution has partnered with DrFirst to provide HITECH certified e-prescribing tools.
About Medicfusion
Designed by chiropractors with a chiropractor's EHR needs in mind, Medicfusion will save you time and money and be much appreciated by your patients.
Tech Support Availability 24/7

Read All Read All Reviews Reviews
Free Resource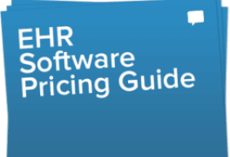 Medical, EMR & EHR software Pricing Guide
Don't let price confusion keep you from selecting the best software!