What is MedicsPremier by Advanced Data Systems?
MedicsPremier supports comprehensive financial/operational/workflow management and a nearly 100% success rate on first attempt HCFA/UB clearinghouse claims with a utility for workers compensation/no-fault claims/documentation.
EDI features include out-of-network alerts while scheduling appointments, a patient responsibility estimator ideal for alerting patients in advance as to approximately what they'll owe after insurance, pre-appointment batch eligibility verifications, real-time Vision claim tracking, on-the-fly claim denial management, and EOB reconciliations via ERAs.
Interactive, multi-lingual reminder texting keeps resources/staff/revenue optimized with minimal gaps, and are ideal as balance-due reminders.
MedicsPremier automatically generates patient statements as balances become their responsibility, or statements can be produced economically offsite. The portal supports online payments, appointment scheduling, completing questionnaires in advance, and more.
Specialities
General Practice
General Practices
About MedicsPremier by Advanced Data Systems
MedicsPremier medical billing software from ADS delivers unparalleled power, flexibility, reliability, and ease-of-use while providing that increase in efficiency.
Tech Support Availability 24/7
MedicsPremier by Advanced Data Systems User Reviews



We have been using ADS Medics Premier for a few years now and this week we made the change to transfer our programing to the cloud so we don't need a server anymore. We migrated access to laptops and can now work seamlessly from anywhere. The staff as ADS and tech support has always been attentive and when we call for support we get very fast to adequate response time. I have not had any issues with ADS and I would recommend them. I don't know why the other person who reviewed them gave such a bad review...perhaps there was a misunderstanding somewhere. I have dealt with a number of people at ADS and this year, 2016, they have really upped their game and customer service is great.


After using the medical billing for almost 3 years I have to say it performs exactly the way it is suppose to. Very user friendly and very good reports. Our company had a rocky start due to the emergency of getting up and going asap. We chose the cheaper route of telephone training which was not a good idea since our staff was clueless on how things should be set up regarding insurances and how to receive the payments. Most of the training on set up was not detail enough for 1st timers in house billing. Other than the telephone training and some issues with the Advanced Data staff that was processing the start-up we love it now.


ADS is our third EMR & PM system in 5 years and we feel that this is finally the right one. We should never have wasted time and money on those other systems. The EMR was easy to navigate that our 70 year old physician who was not so proficient with computers took to it within days. Best part is that ADS team are always developing new features and are not stagnant with "one method". They listen to the client's needs and input and really try to follow it. New employees can be a financial drain during training but not with their PM. Training new staff on the user friendly PM system is not hair-pulling and they are up and running by the end of the day. Customer service has been very responsive and helpful. Regardless what your needs are, they happily help you. I have always had a quick turnaround time on call backs. Never days. All our physicians are very happy.


I have been a client of ADS for many years and I truly love their software as well as their support. Their software is among one of the most user friendly softwares that I have ever used and their support department is unparallel. In all the years that I have been using ADS I don't recall a time when it took them more than 24 hours to return my call. In fact, most of my calls were returned in less than a couple of hours and many within just a few minutes. If you're looking for a great PM system with amazing reporting and great technical support team ADS is the company to use.


THIS IS THE WORST COMPANY EMR COMPANY EVER! MOST OF THE PEOPLE WHO WORK THERE HAVE NO IDEA WHAT THEY ARE DOING. NO ONE EVER RETURNS YOUR CALLS AND WHEN THEY DO, THEY SIT ON THE OTHER END OF THE PHONE AND TELL YOU THAT THEY DO NOT SEE A PROBLEM. THE WORST CUSTOMER SUPPORT IN THE ENTIRE WORLD. THEY ALSO DO THIS THING WHERE THEY CAN ONLY FIX THE PROBLEM DURING REAL TIME BUT WHEN YOU CALL THEM FOR THAT, NO ONE GETS BACK TO YOU UNTIL ALMOST 5 DAYS LATER. THE MOST UNPROFESSIONAL PLACE THAT YOU COULD EVER WORK WITH !!!!!!!!!!!! I WARN YOU, DO NOT USE THIS COMPANY UNLESS YOU ARE LOOKING TO BE RIPPED OFF AND WORK WITH A "SUPPORT" GROUP THAT HAS NO IDEA WHAT THEY ARE DOING
Read All Read All 10 Reviews Reviews
Free Resource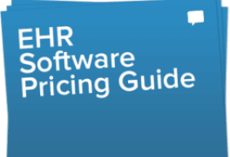 Medical, EMR & EHR software Pricing Guide
Don't let price confusion keep you from selecting the best software!