What is Medtask Enterprise?
Medtask is a cloud-based electronic medical records (EMR) solution that helps to automate clinical operations of healthcare providers. Key features include appointment scheduling, document management, reporting and analysis and claim management.
Medtask appointment scheduling feature helps patients to schedule appointments by booking slots based on availability of the concerned physician. The solution also provides appointment reminder feature that gives a patient an advance alert in order to avoid a no-show.
Medtask dashboard feature provides information about patients' demographics, progress reports, payments processing and other related details. The solution also helps patients to submit and track electronic claims that can be validated by using claims scrubbing feature.
Additionally, it offers co-pay management, charting, multi-location support, claim templates and patient workflow tools. Medtask is HIPAA compliant and is accessible through mobile applications. The solution offers support via email.
About Medtask Enterprise
Medtask Enterprise provides a full suite of applications that provides physical therapy and chiropractic clinics with dashboards, customizable appointment scheduling, free integrated electronic health record (EHR), patient workflow tools and more.
Tech Support Availability Monday-Friday
Connection Speeds High speed Internet connection with Static IP address such as Fiber, DSL, Cable, T1, T3, etc
Medtask Enterprise User Reviews

Read All Read All Reviews Reviews
Free Resource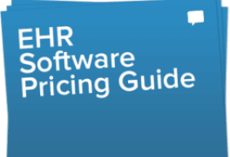 Medical, EMR & EHR software Pricing Guide
Don't let price confusion keep you from selecting the best software!