About Office Ally
EHR 24/7™ is our comprehensive secure Electronic Health Records program that is easy to use, customizable and allows providers to spend more time with their patients and less time on paperwork. EHR 24/7 integrates seamlessly with our practice management program. Features include scanning of records, E- Prescribing*, and ordering/receiving lab results online all for only $29.95 per month!! Since it is a web-based program you can access your patients' records anytime, from anywhere!
Free Resource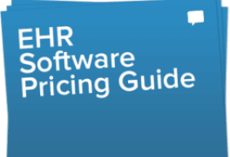 Medical, EMR & EHR software Pricing Guide
Don't let price confusion keep you from selecting the best software!