OSCAR is an open-source Electronic Medical Record (EMR) solution. It is an ISO 13485:2003 certified solution for practices of all sizes. It can be deployed on-premise as well as in the cloud. Primary features include patient records, billing, scheduling, medication, Eforms and messaging.
Other features include chronic disease management tools, prescription module, health tracker, inventory management, invoicing and appointment management. The patient record module allows users to track health, access clinic data and create electronic charts. The billing module provides billing templates, super codes and third-party or provincial billing.
The scheduling module provides patient registration, roster management, reminders and task assignment features. The medication module allows users to recommend drugs, provides allergy alerts, prefer pharmacies and treatment recommendation using Know2Act (K2A).
OSCAR offers integration with Hospital Report Management (HRM), drug databases, kindredPHR and Ontario Laboratory Information System (OLIS). It is compatible with mobile devices.
Tech Support Availability N/A

Read All Read All Reviews Reviews
Free Resource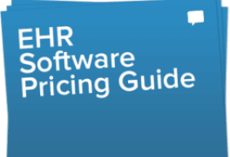 Medical, EMR & EHR software Pricing Guide
Don't let price confusion keep you from selecting the best software!