About Sequel Systems
SequelMed EMR (Electronic Medical Record) is a secure, real-time, point-of-care, patient-centric application for clinicians that provides instant access to patient records and built-in decision support tools and alerts to aid clinicians in capturing decision-making rationale. SequelMeds unique, customizable templates and flow sheets enable clinicians to automate and streamline their workflow and care for more patients. With SequelMed EMR software, clinicians can focus on what they do best: taking care of patients rather than paperwork. Moreover, SequelMed EMR software is fully and seamlessly integrated with Sequel Systems medical billing software (SequelMed EPM) supporting collection of billing and financial data, as well as all image and document management for uses other than direct clinical care. Ultimately, immediate access to medical records with electronic medical records system ensures effectiveness and efficiency of healthcare services.
Sequel Systems User Reviews
Free Resource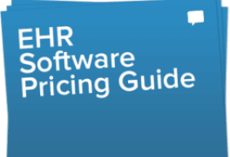 Medical, EMR & EHR software Pricing Guide
Don't let price confusion keep you from selecting the best software!