SRS EHR is an intelligent data solutions vendor that provides healthcare information technologies for specialty practices. SRS EHR's healthcare IT ecosystem – designed for episodic care – includes EHR, outcomes, practice management, patient portal, transcription and PACS.
The EHR solution allows providers to access a PDMP and obtain outcomes intelligence within their natural workflows. Customized data collection is simplified through the use of protocols, and workflows can be tailored to each provider's or practice's requirements.
The SRS EHR healthcare IT ecosystem supports physicians in a variety of specialties, including orthopedics, ophthalmology, dermatology, ENT and more.
SRS EHR can be deployed on-premise or as a cloud-based solution. The system features customizable tabs for physicians and can scale to suit the needs of any practice.
Specialities
General Practice
General Practices
About SRS EHR
The right EHR adapts to your practice, not the other way around. That flexibility frees you to pursue your specialty practice goals – such as seeing more patients, improving outcomes, or more efficiently capturing reimbursements. By capturing data while accommodating your existing workflow, our EHR reduces redundancies and automates processes to improve operational efficiency. A national network of thousands of renowned specialty groups already trust their practice to the SRS EHR solution
Tech Support Availability N/A

Read All Read All Reviews Reviews
Free Resource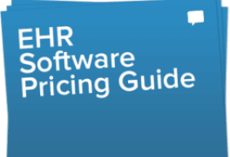 Medical, EMR & EHR software Pricing Guide
Don't let price confusion keep you from selecting the best software!