Specialities
Allergy
Cardiology
Dentistry
Dermatology
Endocrinology
ENT
Family Med
Gastroenterology
General Surgery
Geriatrics
HEMATOLOGY/ONCOLOGY
Infectious Disease
Internal Medicine
Internal Medicine Sub-Specialty
Long-Term Care
Multi-Specialty
Neurology
Neurosurgery
OB-Gyn
Occupational Medicine
Ophthalmology
Optometry
Orthopedics
Pediatrics
Physical Therapy
Plastic Surgery
Podiatry
Psychiatry
Psychology
Pulmonology
Rheumatology
Sleep Medicine
SurgiCenter
Urgent Care
Urology
Vascular Surgery
About SuiteMed, LLC
SuiteMed IMS Electronic Health Records (EHR) meets the ARRA Meaningful Use criteria and offers a unique Meaningful Use Dashboard to simplify the process. We strive to not only give you the software to automate patient record documentation, storage and retrieval, but the tools to make sure you optimize the technology.
SuiteMed, LLC User Reviews

Read All Read All Reviews Reviews
Free Resource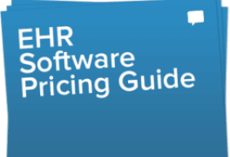 Medical, EMR & EHR software Pricing Guide
Don't let price confusion keep you from selecting the best software!