SuperEMR is a cloud-based medical solution designed to help smaller practices collect and stores patient information, encounters, medications, lab results and DICOM images in a single database.
SuperEMR stores every aspect related to a patient's medical history, both past and present, in a medically certified and compliant database. The interface offers customization options and requires minimal data entry from the practitioner and administrative staff. This solution is fit for practices with five or fewer doctors in a number of specialties: cardiology, family medicine, pediatrics and internal medicine, to name a few. It's also a great fit for imaging centers because it offers the same paperless environment, as well as a proprietary DICOM viewer and seamless integration with a variety of image types, such as CT, MRI, ultrasound, x-ray and more.
SuperEMR offers daily automatic data backups, as well as an optional additional backup server for those providers that want a further backup at their office or other location.
Specialities
General Practice
General Practices
Tech Support Availability N/A

Read All Read All Reviews Reviews
Free Resource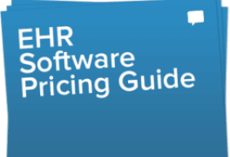 Medical, EMR & EHR software Pricing Guide
Don't let price confusion keep you from selecting the best software!