TheraNest is an HIPAA compliant web-based mental health solution used by solo practitioners, large mental health practices, and nonprofit organizations. The solution is suited for therapists, psychologists, psychiatrists, and social workers.
TheraNest offers electronic medical records (EMR) software with a mobile app for Android and iOS. The solution also includes a client portal, patient scheduling, DSM/ICD codes, progress notes, treatment plans, and discharge notes. Users can review and cosign notes and build custom forms.
TheraNest's billing features include insurance claims, credit card services, and batch invoices. Users can generate reports, including payroll, staff billing, and invoice reports. Unlimited document storage and unlimited support are included.
TheraNest's client portal – TheraBook, allows clients to schedule appointments, complete demographic information, enter insurance information and submit intake forms from within their own secure accounts. Everything entered in the client portal will sync to clients' accounts in TheraNest. The system also includes voice, text and email reminders for patients.
Tech Support Availability N/A

Read All Read All Reviews Reviews
Free Resource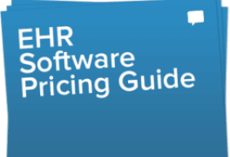 Medical, EMR & EHR software Pricing Guide
Don't let price confusion keep you from selecting the best software!