TherapyNotes is a cloud-based mental/behavioral health software system that includes electronic health records (EHR), a patient portal, patient scheduling and medical billing. The solution is suitable for practices of all sizes, including those with multiple locations or with providers who need access outside the office.
TherapyNotes provides access to several types of specialty note templates for various types of medical practices such as psychotherapy, psychiatry and behavioral health. Using TherapyNotes, medical professionals can create and customize treatment plans, progress notes, psychological evaluations, termination notes and more.
The solution also includes a billing module, which gives providers the ability to create statements and billing reports. The credit card processing module lets users enter/swipe cards directly into the system and save card information for future transactions. Users can create recurring appointments, set staff work schedules and send appointment reminders to the patients directly from the system.
TherapyNotes is an HIPAA-certified application and complies with PCI standards for data security. All data is stored in a fully encrypted SAS 70 Type II certified data centers.
About TherapyNotes
Practice Management & EMR Software for Behavioral Health
Tech Support Availability N/A
TherapyNotes User Reviews



I have used Therapy Notes LLC since the beginning of my practice almost 4 years ago. Their customer service is second to none! Every single person I have ever spoken to has been kind, knowledgeable, and very patient. Thank you Therapy Notes for making the paperwork side of my business more manageable and streamlined!


The Customer Support is outstanding. Help is readily available whenever it's needed. The Customer Success Representatives walk you through each step of finding a solution to any type of problem. They help the user get the most out of a powerful, practical and clinically helpful tool that has helped me do my clinical work while not getting in the way.


Therapy Notes consistently provides me with excellent customer service, quick solutions, and supportive information. I have easily gained more in value than the monthly expense, and it is with a great ease of mind that I use them to support myself and my clients. Thanks for all your hard work!


I have been blown away by this company and the system they have developed. For small fee, they are always available. I can send my claims with the click of the mouse and keep my schedule, progress notes, treatment plans all up to date quickly and easily. I would recommend to anyone who is in private practice!


The support staff goes above and beyond to help resolve questions and concerns. They are patient, kind, and friendly. I appreciate everything they have done to help me make the transition. I highly recommend!!!
Read All Read All 116 Reviews Reviews
Free Resource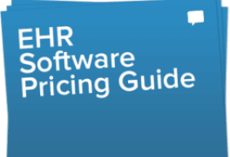 Medical, EMR & EHR software Pricing Guide
Don't let price confusion keep you from selecting the best software!