Specialities
General Practice
General Practices
About VersaSuite
VersaSuite-eHR offers makes it easy to enter large amounts of clinical data using VersaSuite's fast click-based data entry. VersaSuite offers comprehensive specialty-specific content for a wide range of medical specialties. VersaSuite-eHR also allows doctors to customize exam templates so they can make templates feel just like they want, or they can have VersaSuite customize for them.



Working at VersaSuite has been a great learning experience. It is one of the few companies that I have applied to that offers a great opportunity to new Junior Developers to get experience working on enterprise-level projects. I love it here. With that being said, because it is a small team compared to a big corporation, it's hard to hide from not being productive. You need to be self-directed and solution-driven. So if you are going to apply, set your expectations accordingly. I have learned more on the job in the first few months than I did anywhere else. Your teammates are great, very supportive and understanding. They will help you along to grow and learn. But it's on you to put in the work. So if you are self-driven, dedicated, hard-working with love for learning, you will love it here too. P.S. About management: Because this is a smaller company, we report directly to the CTO. There is no bureaucracy here. So when decisions are made, they are made with you in the room. The meetings tend to be direct and straight to the point. Because at the end of the day, the company has to generate revenue. This can be intimidating to some, because you are so close to the fire, and you feel that your decisions and work directly influence the company's goal to bring the best value and service to their clients as possible.


We examined the VersaSuite EHR and found it to be a great product for in and outpatient clinics and hospital. Right now while affordable we have decided to stay with our existing system for our current needs. Once we complete our expansion, we expect to install VersaSuite in all locations for appointments, Human Resources, Staffing and Scheduling, and EHR. It is a great system and our entire staff was very impressed.


This place fired me after one day and wouldn't give me a straight answer why. No warnings, no constructive criticism, just my second morning working there and - BAM! Thank God my previous job was still waiting for me just the way I left it, other people might not be so lucky.


Wow is all that I can say! VersaSuite has a team of highly professional, experienced and educated professionals. It has been amazing to work with Ken and his team. I have worked with many different vendors in my career and have never had the level of service that VersaSuite provides.


Worst place with unprofessional management. Unable to fulfill the commitment. Bad place. I am talking about professionalism, don't invite people to a smoking area to conduct interviews. You know why I did not call you back as you suggested "because your company doesn't know how to respect people"
Read All Read All 11 Reviews Reviews
Free Resource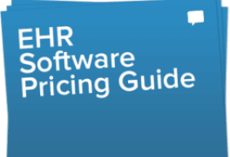 Medical, EMR & EHR software Pricing Guide
Don't let price confusion keep you from selecting the best software!